In the Toshakhana case, the NAB summons Imran Khan
A private TV channel reported that the National Accountability Bureau summoned PTI Chairman Imran Khan to appear today in the Toshakhana inquiry.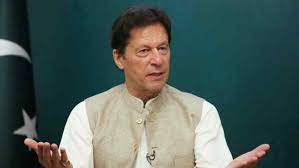 In addition, the former prime minister has been asked to bring along relevant records.
It was stated in the notice issued by the NAB that the PTI chairman had been issued a notice for Wednesday, but he failed to appear. According to the notice, Imran Khan received 108 gifts as a former prime minister, but kept 58 gifts for himself. It has been requested that the PTI chairman bring along all of the records related to the case. It had summoned the PTI chairman on June 21 for the same investigation.
Previously, Imran Khan was summoned, but was unable to attend, resulting in a written response through Barrister Gohar.
In the previous notice, Imran Khan was instructed to appear in Islamabad at 11am on June 21, bringing all relevant records related to the case. In a letter to NAB, Imran Khan clarified that he was unable to appear on the scheduled date, but assured that he would appear on June 19 if NAB contacts him again.